How Backwoods Cigars Became So Popular In The US
Backwoods Cigars are one of the best-selling cigarillo brands marketed and sold in the United States! Crafted with premium Caribbean Basin Cuban-seed tobacco grown in the Dominican Republic, each cigar features an all-natural Connecticut broadleaf wrapper for added flavor and character. So if you're into medium to mild-bodied cigars, then Backwoods is a brand worth exploring!

In addition to quality, these cigars are also known for burning slow, just the way you enjoy! With an unfinished head and a rustic appearance, Backwoods are bold, yet smooth to consume! Plus, they come in several unique and original flavors, which we're going to discuss in the blog! Also, we're going to reveal a bonus, hard-to-find flavor for Ballers only! In addition to that, we're also going to reveal a hidden flavor not available in the United States yet, but expected soon!

So as you can see, it's not hard to tell how Backwoods became so popular in the US. Not only do we appreciate quality, but we also value consistency as well, and that's exactly what you'll get with this iconic brand. That said, drop down below to discover all flavors available today!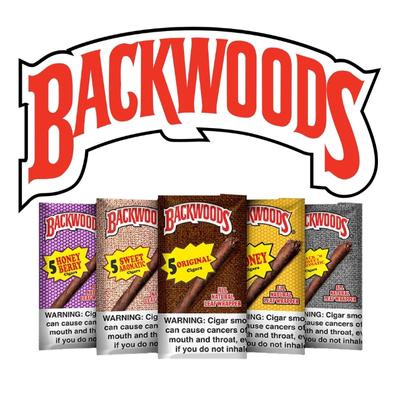 Top 10 Best-Selling Backwoods Flavors of All-Time
Now that we know what it takes to be the best-selling cigar brand in America, it's time to take a look closer at all the top flavors available! With more than 10 to choose from, we're sure you'll discover something that'll catch your attention! On that note, let's dive in a little deeper, shall we?

Before diving into all the flavors, we first want you to know that Vanilla Backwoods is not yet available in the US yet. Well, not at the time of this posting anyway, so we can't include them in our list now. However, they are available in Europe and soon they are expected to hit the shelves nationwide! Once they drop, we promise to be the first to let you know! We're waiting!
1. Banana Backwoods 
Banana Backwoods is the newest flavor of Backwoods Cigars to hit the US market in 2022. And just like Vanilla Backwoods, this flavor was only available in Europe. However, after several years of protest, the brand's most unique flavor was finally launched in the states!
After much anticipation, the new arrival quickly sold out nationwide! In other words, it took years to get them here, but only days to sell out! Luckily, Discount Little Cigars (DLC) is an official retailer for Backwoods, we keep our supply full at all times! So if they're sold out at your local smoke shop, no worries, just click the buy now button or link and we'll direct you straight to our product page, you don't even need to leave our site!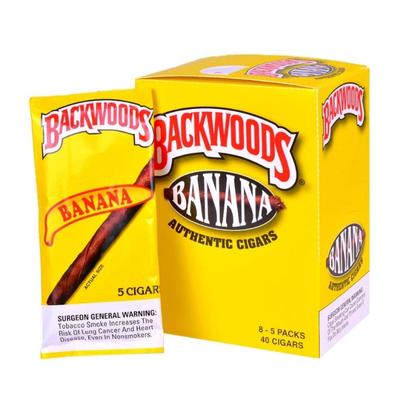 2. Black Russian Backwoods Cigars
Black Russian Backwoods Cigars is another new flavor now available in the US. Although not extremely popular yet, nonetheless, this flavor is still a hot seller! Not to mention, it's not an easy flavor to find. But then again, at DLC, we keep a full supply always ready for when you're ready! Infused with authentic black coffee and vodka flavoring, we guarantee you that no other brand comes close to producing something so rich and authentic! With that said, click the buy now button below and experience something new and exciting for a change!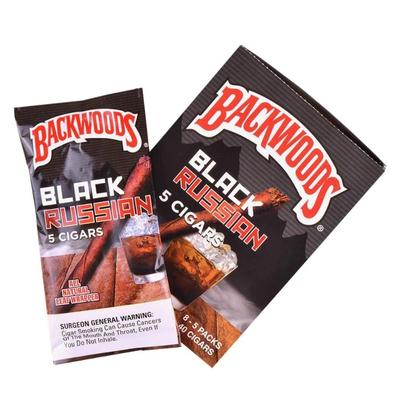 3. Dark Leaf Backwoods
Dark Leaf Backwoods is another flavor that's hard to keep on the shelves! Not only are they highly sought-after, but they're also unique-tasting and original in every sense of the word. Not to mention, they're slow-burning and made from a premium fire-cured leaf. As soon as you crack a pack open, you'll instantly smell a strong, smoky aroma that's both warm and inviting! So if you're looking for something bold and original, then hit the buy now button below and you'll instantly be directed to our store product page where you can buy online for the lowest price guaranteed.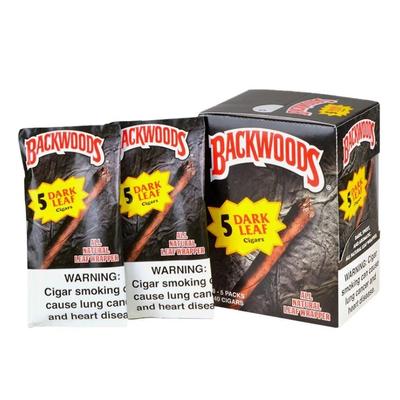 4. Dark Stout Backwoods
Dark Stout Backwoods is another beloved flavor from Backwoods Cigars! Not only are they a fan favorite, but they're also a top seller here at DLC as well. Made with premium, all-natural Dominican tobacco, this is by far one of the most affordable fire-cured dark leaf cigars available in the United States! On that note, if you appreciate bold, smokey-flavored tobacco, then this is one flavor worth trying! Now available in two package sizes, 24-count boxes and our most popular 8-pack boxes of 5 (40 cigars), both sizes ship nationwide.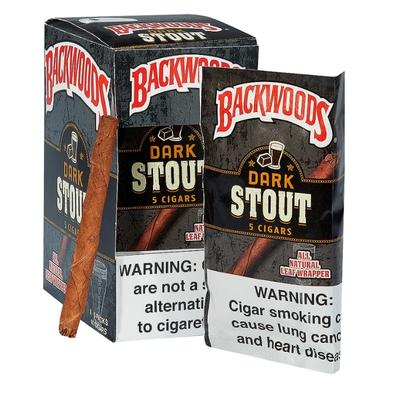 5. Honey Backwoods
Honey Backwoods is indeed one of the best-selling flavors from this brand to date! Not only are very popular in the US, but they're also hard to find sometimes, which confirms their popularity! But then again, if you've ever smoked one, then you know! As for those who never had the pleasure, now's the time to add a little sweetness to your smoke! Made with natural whole leaf Dominican tobacco, these honey-infused cigars are like nothing else! They're smooth, rich, well-balanced, and like all Backwoods Cigars, slow-burning! Hit the buy now button and start smoking better for less!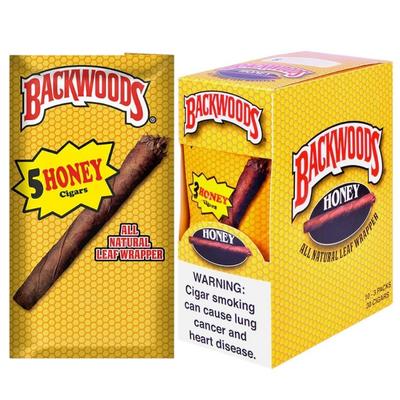 6. Backwoods Honey Berry
Backwoods Honey Berry cigars are without question, one of the brand's best-sellers of all times! As an official retailer of Backwoods Cigars, our data is able to confirm the popularity of this flavor! After all, we're an all-American tobacco store with several years in the business, so if we say this flavor is at the top of the stack, then we promise, they're definitely way up there on the list.
Infused with genuine honey berry flavors and premium Dominican tobacco, we're sure you'll appreciate each and every draw from start to finish! To have your own box delivered to your straight to your door, simply click the buy now button and you be taken to our product page where you can make it happen today! Smoke-wise, smoke Backwoods!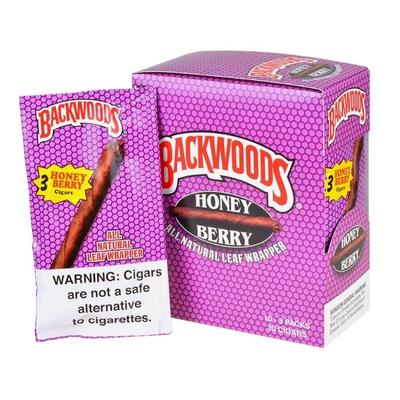 7. Honey Bourbon Backwoods
Honey Bourbon Backwoods is another honey-infused flavor that continues to fly off our shelves! Like all Backwoods Cigars, this flavor is made with all-natural flavoring and high-quality Dominican whole leaf tobacco! So if you love sweet bourbon and premium tobacco, then, by all means, you'll appreciate this flavor with every draw!
Other than that, honey bourbon woods are smooth, well-balanced, and easy to consume. Plus, they feature a Connecticut broadleaf wrapper, giving these cheroot-style stogies added flavor and character. So if you've been thinking about adding a little spice to your life, then click the buy now button below and prepare to get lifted.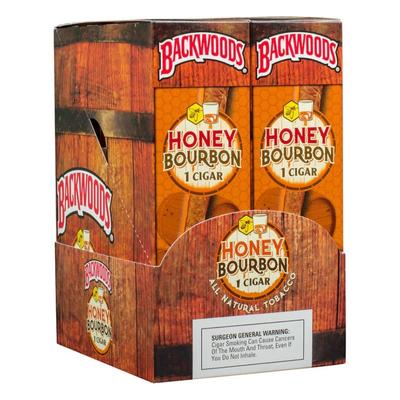 8. Backwoods Original Cigars
Backwoods Original cigars are without a doubt, the #1 best-selling flavor from this brand of all time! As expected, these particular cigars are all-natural, all-original, and all-American. Since their release in 1973, they've become a staple in the US tobacco market. In fact, they're a household name nowadays!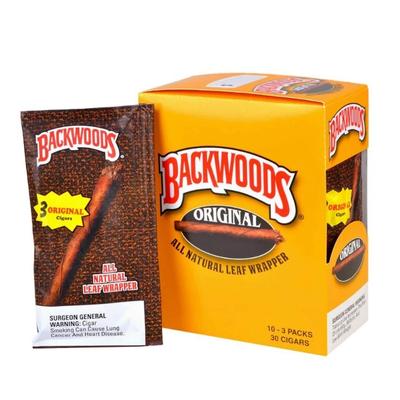 9. Russian Cream Backwoods
Russian Cream Backwoods is perhaps the world's best-selling flavored cigar ever produced. Not only are they very popular, but they're also a hot seller, especially here at Discount Little Cigars! Besides that, this flavor is rich, authentic, and expertly balanced to perfection. Plus, it features unique notes of sweet vanilla cream and Russian Vodka. On top of that, these cigars are made with 100% pure Dominican tobacco and an all-natural Connecticut broadleaf. So if you're looking for something smooth and original tasting, then pick a box of Russian Cream today and enjoy them until the last draw!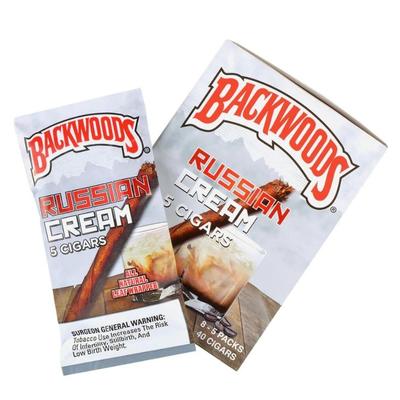 10. Sweet Aromatic Backwoods
Last up on the list we have Sweet Aromatic Backwoods! Made with top-quality Dominican whole leaf tobacco and a premium Connecticut broadleaf wrapper, these cigarillos are as authentic as they come! So if you enjoy sweet-tasting cigars that are rich in flavor, character, and class, then give sweet aromatic a try and let us know what you think! From our experience, these cigars are mild-bodied, slow-burning, and fresh straight out of the pack! That said, give these bad boys a spin and enjoy the win! Now available in 10 packs of 3, 24 packs of 2, and 8 packs of 5.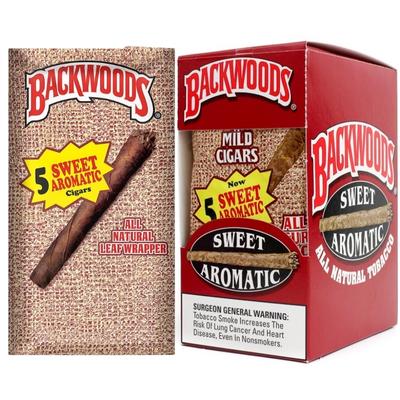 Backwoods Cigars Bonus Flavor [Limited Time Only]
As promised, here's our exclusive bonus flavor for Ballers Only! So for all of you heavy hitters out there in the Land of the Free, have you ever tried the limited edition Backwoods Small Batch 002 Cigars? If not, then here's your chance to learn more and to scoop up a box for yourself.
Each cigar is made with premium Dominican tobacco that's handpicked from artisan growers. This is a once-in-a-lifetime opportunity to experience premium Backwoods Cigars like you never had before! However, keep in mind that these shorties are top-notch, and so is the price! In fact, an 8-pack box of 5 (40 cigars) sells for over $100 online and off. 

So as you can see, when it comes to Backwoods 002, they're a top-shelf cigar made with real smokers in mind. That said, click the buy now button to learn more or to purchase. Once received, make sure to check back with us to let us know what you thought; we'd love to know your opinion, and so will our readers! Enjoy!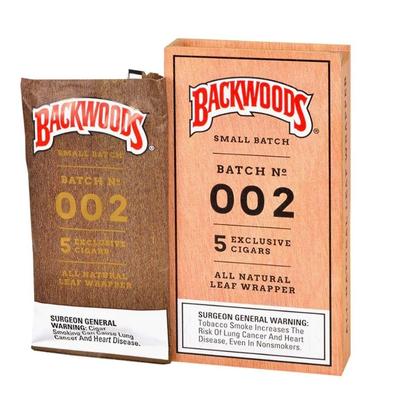 Backwoods Cigars For Every Type of Smoker
To conclude, it's clear that Backwoods is a brand that keeps every type of smoker in mind. Not only do they offer a huge variety of flavors, but they also offer several package sizes and price ranges!

At Discount Little Cigars, we're proud to be an official retailer of Backwoods Cigars. All of our tobacco products and cigars are stored in a temperature and humidity-controlled building here in Newport, Kentucky. In other words, your order will always deliver fresh! We're also open to the public, so if you live in the Cincinnati area, stop by and pick up your tobacco supplies in person, we'd love to meet you!

Unfortunately, not everyone lives in the area, so if that's you, no worries, we ship nationwide and we'll deliver your tobacco and cigars straight to your front door! We ship via USPS, FedEx, and UPS, so we have you covered 24/7/365, guaranteed.
Lastly, you MUST be 21+ and live in the United States to buy Backwoods Cigars online! That said; we'd like to thank you for your time reading our blog and we hope you find what you're looking for here at DLC. 
Also, keep in mind that we offer superior customer service by email, phone, or in person. So if you're looking for something in particular, please feel free to contact us anytime and we'll help you to the best of our ability. Thanks again for reading!